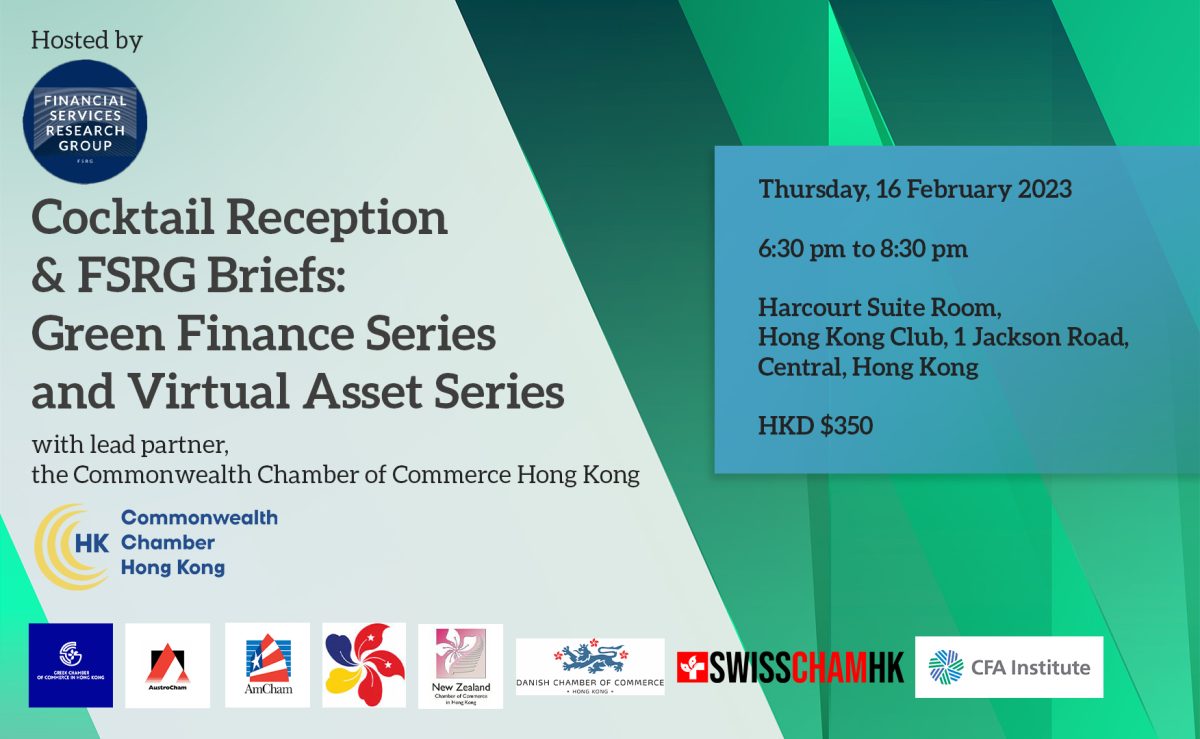 Cocktail Reception & FRSG Briefs: Green Finance Series; Asset Management Series with lead partner, the Commonwealth Chamber of Commerce Hong Kong

Join us for the launch of the very first instalment of the FSRG Briefs: Green Finance Series and Virtual Asset Series with updates on Hong Kong's Positioning and Markets
Date: Thursday, 16 February 2023
Time: 6:30 pm to 8:30 pm
Venue: Harcourt Suite Room, Hong Kong Club, 1 Jackson Road, Central, Hong Kong
Price: HKD $350
Green Finance Series
Speakers
David von Eiff
Dr. David von Eiff is a Director at Institutional Partnerships, CFA institute, a global association of investment professionals. David finished his Doctor of Philosophy at the City University of Hong Kong in 2018 and is a research at the Water and Membrane Technologies Laboratory.  He is a sustainability specialist and addresses the economic, sustainability, and climate change issues associated with water supply management decisions.
Previously for almost a decade, he worked as a regulatory specialist in Environmental, Health & Safety Management Systems, with range of clients in various industries helping them improve their environmental programs and identify methods to make their operations more sustainable.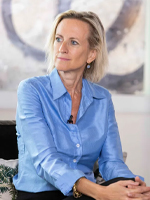 Alexandra Tracy, Chairman, FSRG
Alexandra is President of Hoi Ping Ventures in Hong Kong, which she founded to provide research and consulting on green finance and sustainable investment in Asian emerging markets. She is currently Private Sector Observer to the World Bank's Climate Investment Funds, having served as an Active Private Sector Observer to the United Nations Green Climate Fund. Alexandra is a director of RIMM Sustainability Pte Ltd in Singapore and sits on a number of advisory boards in Hong Kong, including for the Asia Pacific Investors Cooperation, the Hong Kong University of Science & Technology's Asian Family Business Research Centre, Friends of the Earth Hong Kong and Carbonless Asia. She is also a director of the Climate Markets & Investment Association in the UK and advisor to the NDCI.org climate commitment community. From 2013 to 2019, Alexandra was a member of the Listing Committee of the Hong Kong Stock Exchange. She acted as non-executive Chairman of the Association for Sustainable & Responsible Investment in Asia for six years, stepping down in 2015 and was instrumental in establishing the Asia Investor Group on Climate Change during this period. Alexandra speaks and writes regularly on sustainable finance, development and infrastructure issues.
Virtual Assets Series
Speaker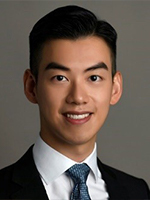 Jason Chan, Senior Associate, Dechert
Jason focuses on investment fund formation transactions, including hedge funds, crypto funds, private equity funds, real estate funds and retail funds. He is well experienced in advising on a diverse range of ongoing compliance, legal and regulatory matters related to the financial services industry in Hong Kong, with a particular focus on the regulatory and licensing requirements for fund managers in the virtual assets ecosystem. Jason is a committee member of the Investment Product and Financial Services Committee of The Law Society of Hong Kong.
Terms and conditions
Business Attire is required by the Hong Kong Club – collared shirts must be worn by men and jeans, sandals and sports shoes are not permitted. To see the full list of club rules on dress code, please click here.
The Hong Kong Club requires guests to be fully vaccinated 14 days prior and show proof of vaccination.