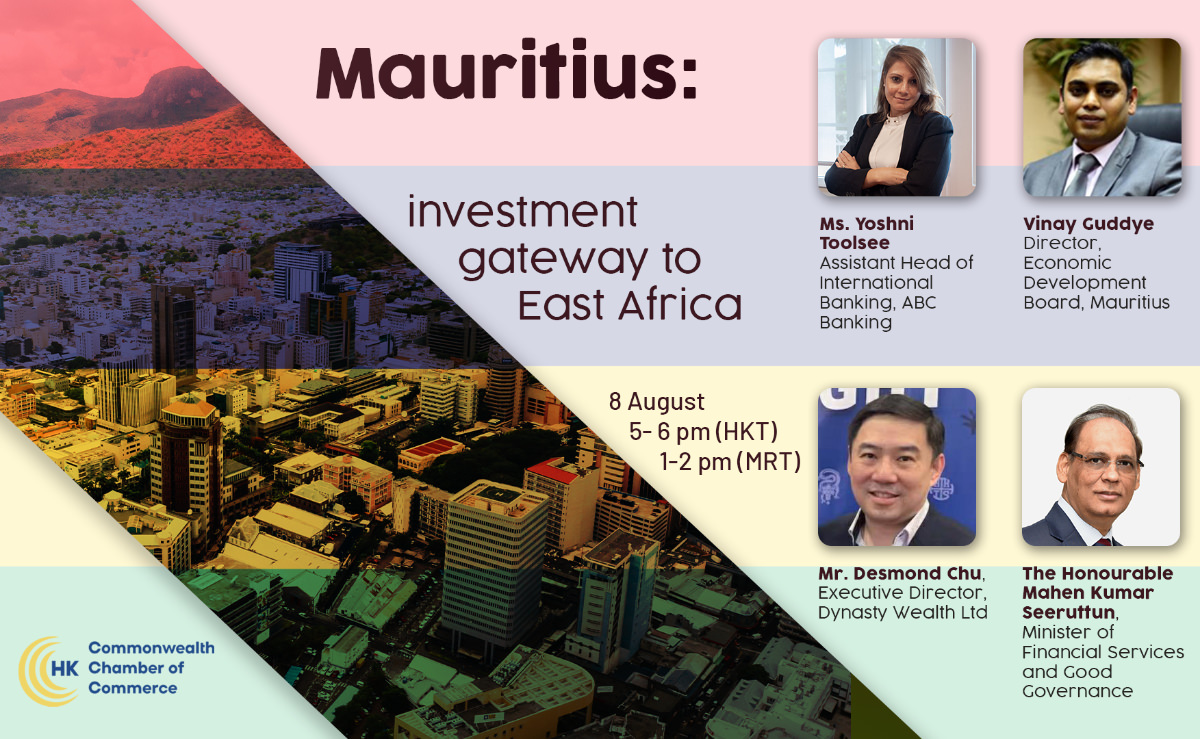 About the Event
The Commonwealth Chamber of Commerce in Hong Kong is delighted to invite you to take part in an important virtual event on 8 August 2022, focussing on the increasingly important economic and financial ties between Hong Kong and Mauritius.
Mauritius, a small island in area but important in terms of its financial services and its role as a strategic investment gateway to East and South Africa, has long historical connections with Hong Kong, Greater China and the Commonwealth.  It has the second highest GDP per capita in Africa and is rated as the ninth freest economy in the world.  It has also been consistently recognised as one of the top 15 jurisdictions in the world for ease of doing business, ahead of all its regional competitors.
For Hong Kong investors, it provides a politically and economically stable environment with a legal system based on the common law, with some features adapted from French civil law.  Mauritius has changed dramatically in the last two decades: first, by reorienting its economy so that now nearly 80% of its GDP comes from the service industries and, second, in recent years, by becoming a flourishing financial hub for private banking, investment banking, insurance and re-insurance, protected cell companies and more.
We are delighted to have as our speakers on this occasion the Minister for Financial Services and Good Governance, the Director of the Economic Development Board of Mauritius, the Assistant Head of International Banking at ABC Banking Corporation Ltd, and the Executive Director of Dynasty Wealth Ltd.  Between them, they will paint a picture of a highly attractive destination for Hong Kong companies interested in the financial services that the country can provide, as well as their personal experiences of both Mauritian and Chinese investors into Africa and back into Hong Kong.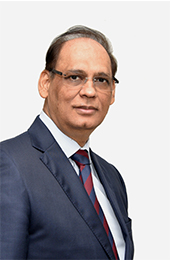 The Honourable Mahen Kumar Seeruttun, Minister of Financial Services and Good Governance
Mr. Seeruttun is an active public figure in Mauritius. He was first elected as the Member of National Assembly in May 2010 for Constituency No 11 (Old Grand-Port/Rose-Belle). He was re-elected in December 2014 and November 2019 in the same constituency.
He served as Member of the Public Accounts Committee (PAC) between July 2010 and October 2014.
After the December 2014 general elections, he was appointed Minister of Agro Industry and Food Security. Since November 2019, he is serving as Minister of Financial Services and Good Governance.
He is a professional Accountant with a Master's Degree in Business Administration with specialization in Finance from the University of Mauritius.
In 1992, Mr Seeruttun joined the Mauritius Sugar Industry Research Institute. He was the Secretary Accountant of the research institute, heading the Finance and Administration Department. After 13 years, he resigned to join the CIEL Group of companies as Finance Manager.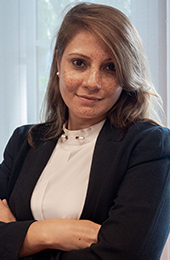 Ms. Yoshni Toolsee Lucknauth, Assistant Head of International Banking, ABC Banking Corporation Ltd
Over the past 15 years, Yoshni has held different positions in the banking industry, with increasing responsibility and scope in portfolio management and sales in the institutional and retail arena. She has had the opportunity to develop an extensive knowledge of strategic leadership, managing sales teams and leading sales efforts directly, offering well developed negotiating and relationship building skills. Her broad exposure to different roles and working with overseas corporate service providers, CEOs, directors and decision-makers, helped her to obtain a strong network.
Yoshni holds an MBA in Financial Management from the University of Mauritius and is currently the Assistant Head of International Banking at ABC Banking Corporation. She takes care of the development and strategy for the international business with a special focus on Asia and the Middle East. Prior to this, she started her career with Deutsche Bank (Mauritius), with assignments in the Cayman Islands and the UK.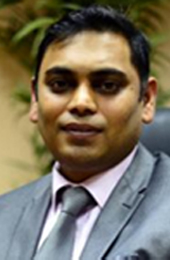 Vinay Guddye, Director, Economic Development Board, Mauritius
BSc Electro-Mechanical Engineering, UCT, 2000
Masters' in Business Leadership, School of Business Leadership, UNISA, 2013
Vinay has during his career worked with Global organizations such as Unilever, Coca-Cola (Phoenix Bev Mauritius) & Maersk with responsibilities across Africa and the Middle East.
Vinay started his career as a design engineer, before moving into Supply Chain Management. Today as a Director at the Economic Development Board of Mauritius, Vinay, combines his on-field experience and his current duties in Trade & Investment promotion with the ambition of promoting the economic diversification of Africa and supporting the transition of the continent up the Global Value Chain.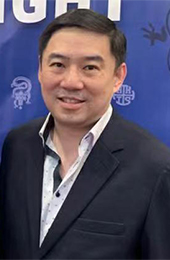 Mr. Desmond Chu, Executive Director, Dynasty Wealth Ltd
Dynasty Group was founded in 2014 as a consultancy and deal brokerage focused on Chinese-Mauritius business opportunities. Led by its founder Desmond Chu, the grandson of the late Sir Jean Etienne Moilin Ah-Chuen, Dynasty has successfully introduced investors into the local banking, offshore finance, hospitality and real estate sectors. Mauritius has been named as an important "financial gateway" into Africa, and it is with this vision that Dynasty has leveraged its local network to realize the Island's full potential. In addition to serving a Senior Advisor role with the family bank representative office in Hong Kong, the founder is also a regular speaker at events promoting Mauritius as an International Financial Centre and appeared on CCTV-4 as one of few selected Overseas Chinese sharing the story of their family's legacy in Mauritius.
In the last few years, Dynasty has assisted a number of Asian Financial Institutions obtain Investment Dealer and Investment Banking licenses as well as requisite bank accounts in Mauritius. This is operated in conjunction with its Mauritian-based partner Legacy Capital, whose founders are ex-bankers with Senior-level relationships across both private and public sectors. With the new regulatory framework on Digital Assets, Dynasty will divert more focus on application of the Virtual Asset Service Provider (VASP) license for its clients. It will also take advantage of the 50th year of Bilateral relationship between Mauritius & China to further business opportunities arising from the Free Trade Agreement signed in 2021.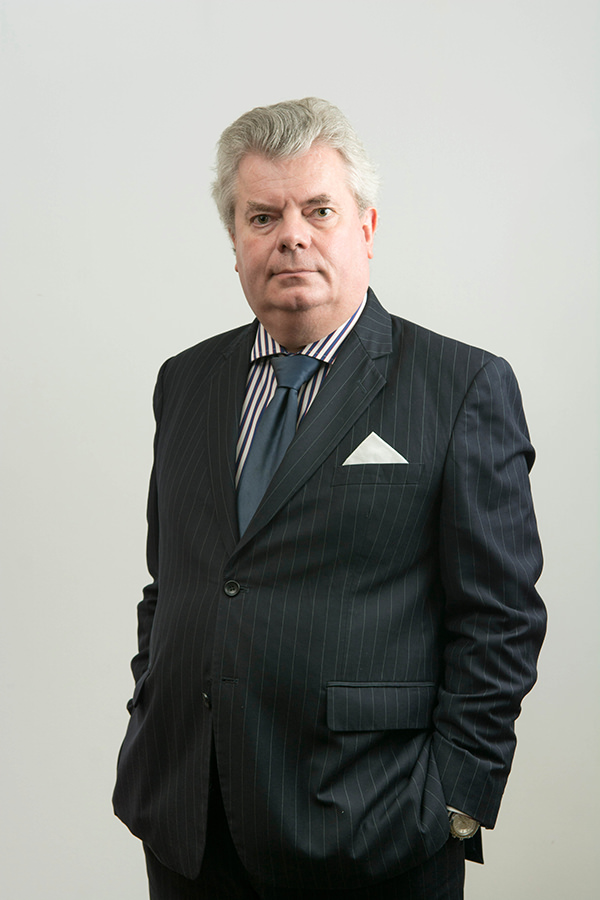 Mr Andrew Wells, Secretary-General, Commonwealth Chamber of Commerce HK

Andrew is Chairman of China Golden Bridge Group, a family company with interests in public service and real estate consultancy, M&A and hospitality and green development.
Andrew has over forty years' experience at senior levels in the public and private sector in Hong Kong. He has served on the Hong Kong Town Planning Board, Housing Authority, Education Commission and Real Estate Developers Association. From 2008 to 2011, Andrew was the Chief Secretary and Acting Governor of the British Overseas Territories of St Helena, Ascension Island and Tristan da Cunha.
Apart from his role as Secretary-General of the Commonwealth Chamber of Commerce, Andrew is active in the Hong Kong General Chamber of Commerce where he is currently Vice Chairman of the Asia and Africa Committee and Member of the Europe, China and Real Estate and Infrastructure Committees.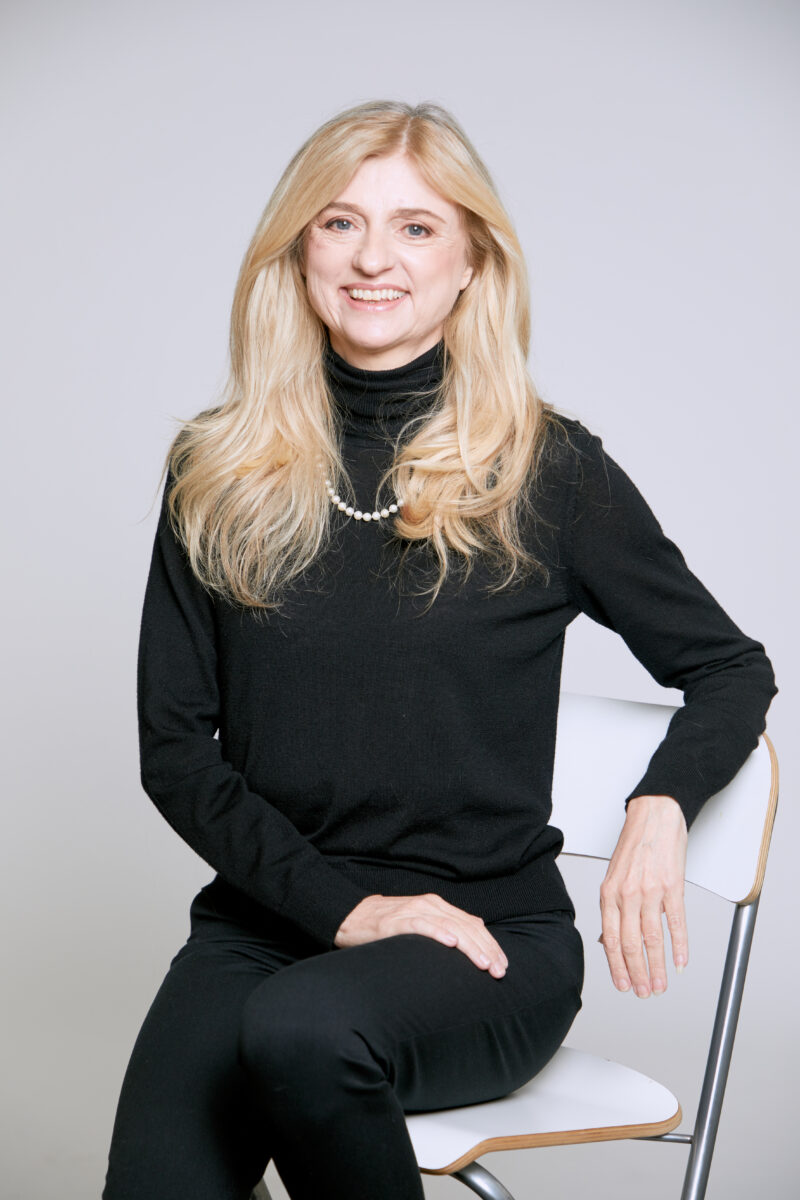 Julia Charlton: Chairman, Commonwealth Chamber of Commerce HK
Julia is the founding and managing partner of Charltons, an award winning Hong Kong corporate finance Hong Kong law firm. Julia is admitted as a solicitor in Hong Kong, England and Wales and the BVI. She practises in the field of corporate finance, including M&A, private equity, securities, virtual assets and funds.
Julia is a member of the Commonwealth Enterprise & Investment Council (CWEIC)'s Global Advisory Council. She is also a member of several Hong Kong boards and committees, most notably The Takeovers and Mergers Panel and the Takeovers Appeals Committee of the Hong Kong Securities and Futures Commission and the Listing Review Committee of the Hong Kong Stock Exchange. Julia is also a Senior Fellow of the Hong Kong Securities and Investment Institute.