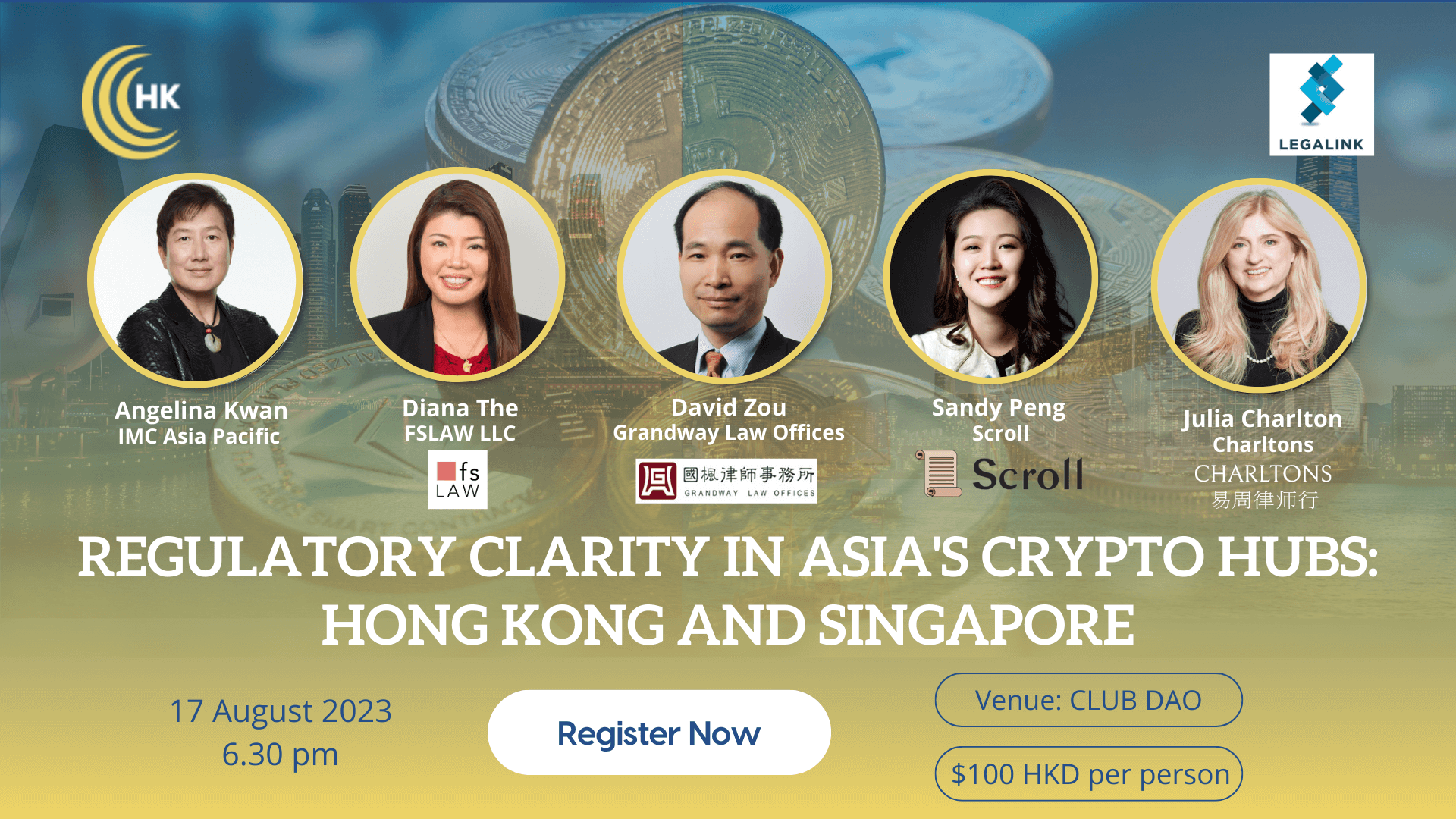 Regulatory Clarity in Asia's Crypto Hubs: Hong Kong and Singapore
The Commonwealth Chamber of Commerce Hong Kong, in conjunction with Legalink, is delighted to invite you to an evening at CLUB DAO for a discussion of crypto regulation in Asia's fastest growing crypto hubs, Hong Kong and Singapore.
The evening will feature presentations by Hong Kong and Singaporean crypto lawyers, Julia Charlton of Charltons and Diane The of fsLaw, on the Hong Kong and Singapore crypto regulatory frameworks, including the licensing regimes for crypto trading platforms, the licensing requirements, and the future of crypto and its regulation in these dynamic jurisdictions.
David Zou of China's Grandway Law Offices will also share his thoughts on crypto development and this will be followed by insights from two crypto practitioners Sandy Peng, Co-Founder of Scroll, and Angelina Kwan, CEO of Stratford Finance Limited. Having worked both as a startup founder and blockchain investor, Sandy has unique insights into the development, compliance and application of blockchain and open source technology and Angelina, a renowned crypto expert, will provide unique perspectives on the rapidly evolving world of crypto and private credit.
Join us for exciting conversation and insights from our distinguished speakers as well as some drinks and networking after!
Tickets are HK$100 (including one drink) and are limited and will be allocated on a first-come-first-serve basis.
Date: 17 August 2023
Time: 6.30 pm for 6:45 pm
Venue: CLUB DAO 21/F, Gold Union Commercial Building, 60-72 Connaught Road West, Sheung Wan
Ticket Price: HK$100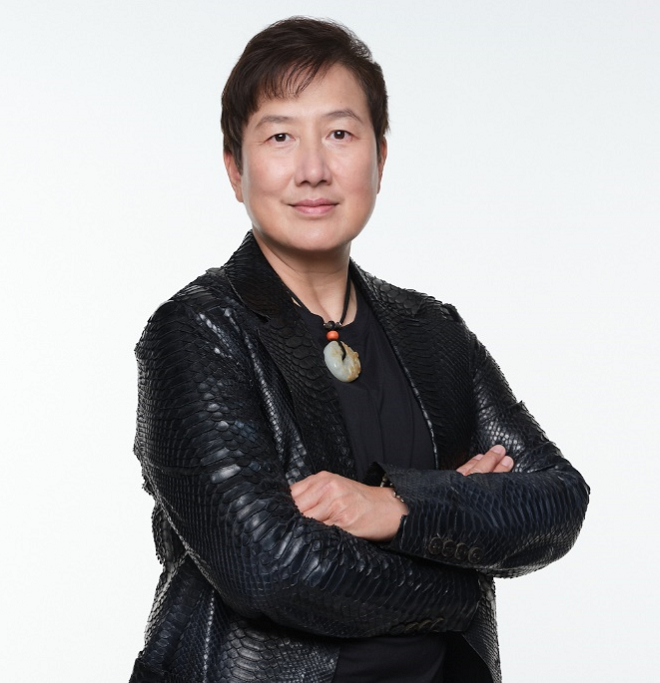 Angelina Kwan; Senior Advisor, IMC Asia Pacific
Angelina is Senior Advisor to IMC Asia Pacific, a leading global market making and proprietary trading firm. She has previously held Senior Management and Directorate positions with international digital asset exchanges, HKEX, Cantor Fitzgerald, the SFC, and other global financial services companies.
Angelina is currently the Chair of The Women's Foundation and serves on a number of Hong Kong Government appointed Boards and charities, including the New Business Committee of the Financial Services Development Council, Hong Kong Securities and Investment Institute, the Ebenezer School for the Blind, the University of Wollongong and is an Honorary Adjunct Professor of the Hong Kong Polytechnic University, School of Accounting and Finance. Angelina is a Certified Public Accountant in the United States, Hong Kong, Australia, and New Zealand.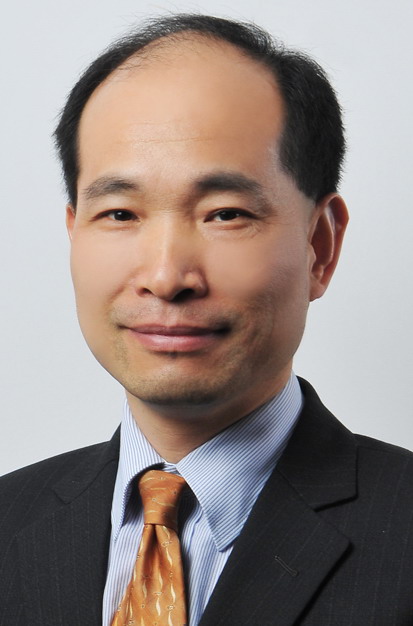 David Zou; Grandway Law Offices
David Zou is admitted to the Chinese Bar, State of New York Bar, and State of California Bar. He previously worked at Boss& Young, Jingcheng & Tongda Neal, Junhe, Husch Blackwell.
David Zou mainly practices the following: cross-border investment (inbound and outbound); mergers & acquisitions; fund formation, capital-raising, and investment of various funds such as venture capital, private equity, hedge funds; project financing; international and Chinese capital market (equity, debt, mixed); compliance and anti-fraud, TMT and renewable energy.
David Zou was ranked by Asialaw as Asia's Leading Lawyer for General Corporate Practice for consecutive years, leading corporate finance lawyer by Chambers, and leading lawyer by International Financial Law Review.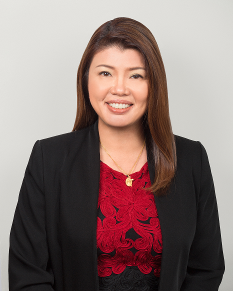 Diana The; FSLAW LLC
Diana is a well-established legal professional with more than 20 years of experience in both legal and financial services, prior to joining fsLAW in February 2023.
She has worked in-house as Chief Counsel across Asia-Pacific, Middle East and Africa for 15 years. Diana's expertise is in Funds (alternative investments – private equity, venture capital, hedge fund, and real estate), Financial Services, Family Offices and Fintechs
Diana has been recognised as one of the most influential and innovative in-house counsels working in South-East Asia through Legal 500's GC Powerlist Southeast Asia 2017 within the Commercial and Professional Services sector and again for the second time in 2019, within the Financials sector.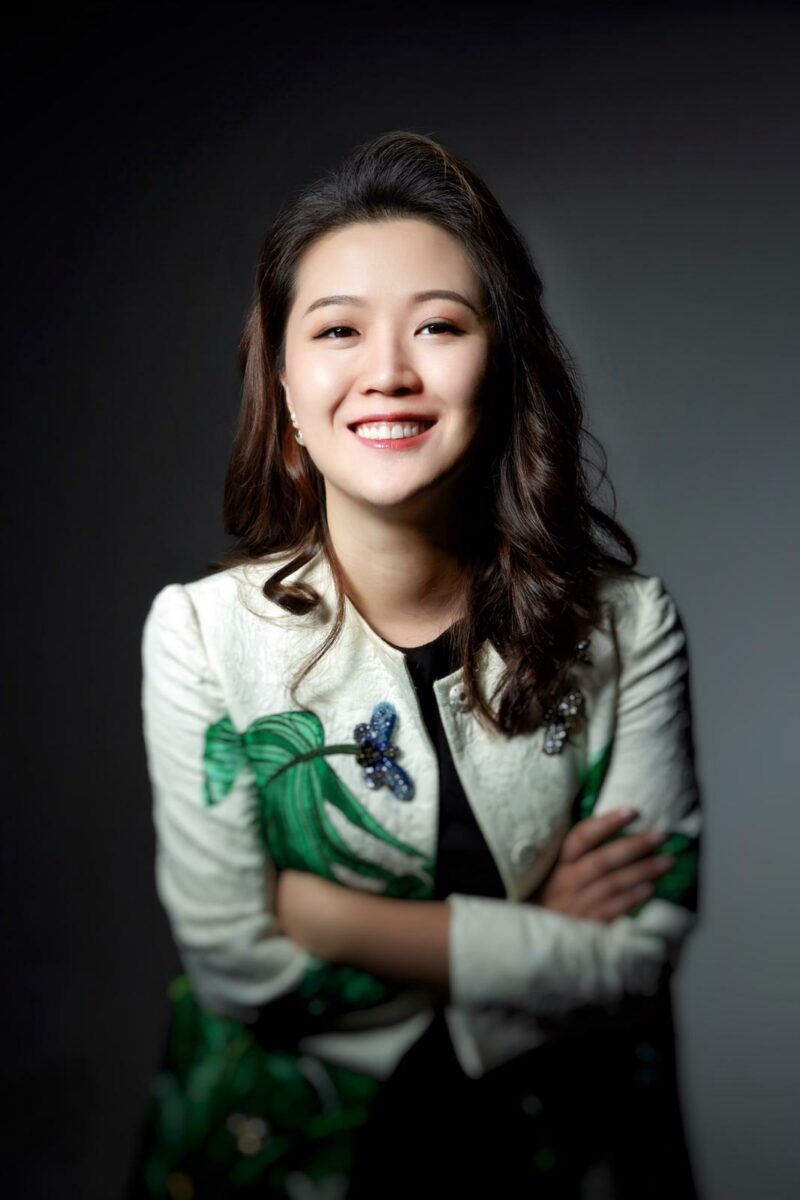 Sandy Peng; Co-Founder, Scroll
Sandy Peng is the co-founder of Scroll. Scroll is a research driven native zkEVM Layer 2 solution, an open source project working at the forefront of zero-knowledge application in scaling. She has rich experience in research, business development, and project strategy. Having worked as both a startup founder and blockchain investor, she has unique insights into the development, compliance, and application of blockchain technology and open source technology.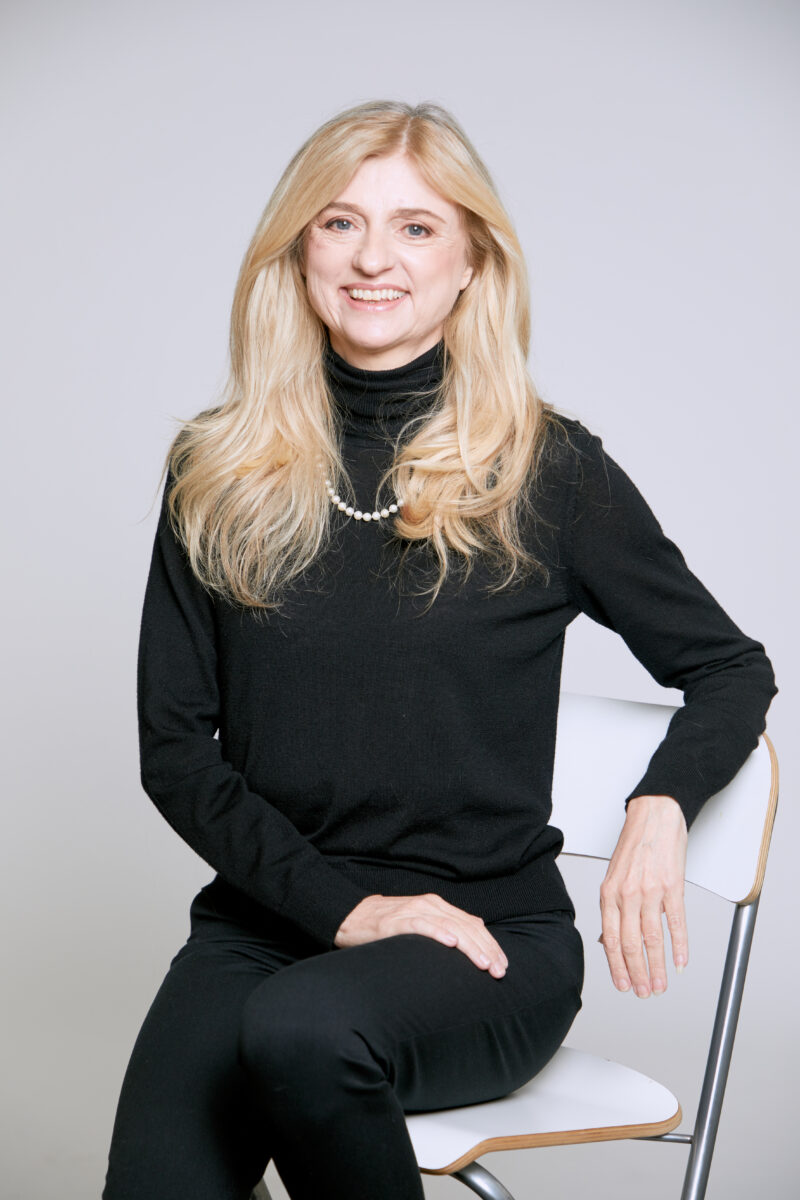 Julia Charlton; Chairman, Commonwealth Chamber of Commerce HK
Julia is the founding and managing partner of Charltons, an award winning Hong Kong corporate finance Hong Kong law firm. Julia is admitted as a solicitor in Hong Kong, England and Wales and the BVI. She practises in the field of corporate finance, including M&A, private equity, securities, virtual assets and funds.
Julia is a member of the Commonwealth Enterprise & Investment Council (CWEIC)'s Global Advisory Council. She is also a member of several Hong Kong boards and committees, most notably The Takeovers and Mergers Panel and the Takeovers Appeals Committee of the Hong Kong Securities and Futures Commission and the Listing Review Committee of the Hong Kong Stock Exchange. Julia is also a Senior Fellow of the Hong Kong Securities and Investment Institute.
Kindly adhere to the dress code; shorts, T-shirts, Polo shirts, sandals and sport shoes are not considered acceptable.
No animals other than a guide dog may be brought onto Club premises
No shows will be charged.
The event will be cancelled if a Black Rain Storm warning is in force.
By attending this event, you agree to be photographed and/or filmed and give permission to use your likeness in promotional and/or marketing materials.
For further information please email events@commonwealthchamberhk.com