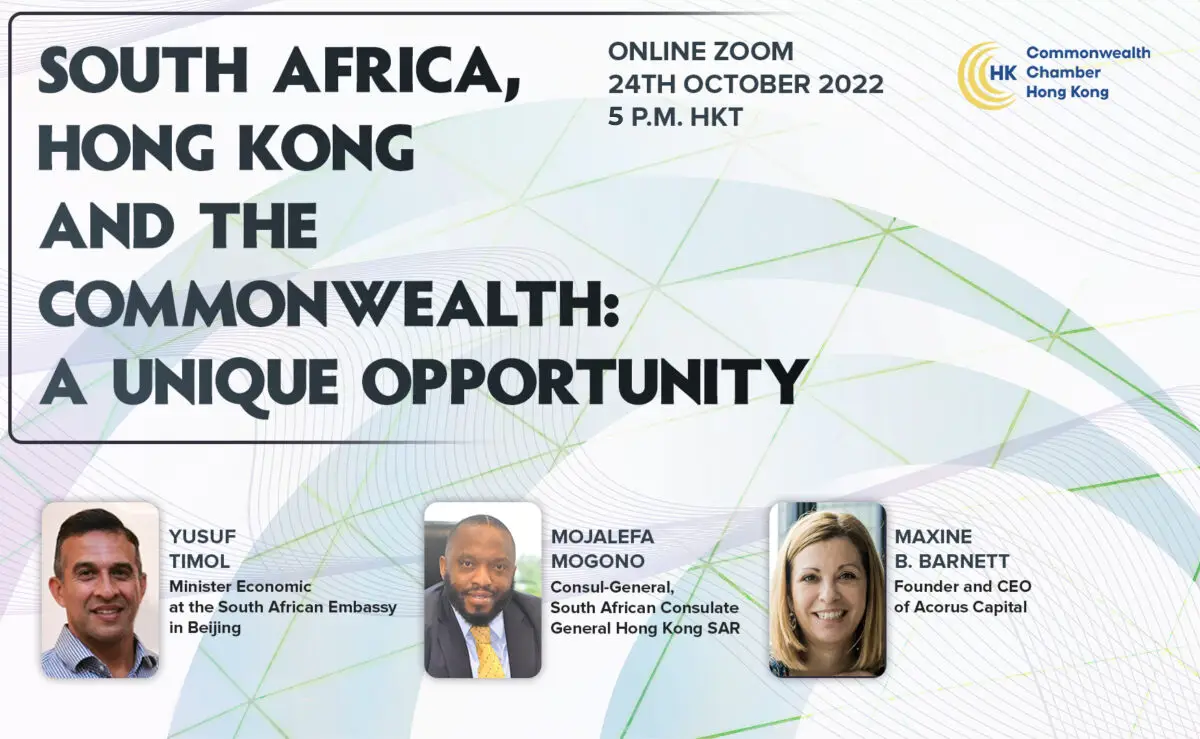 About the Event
The economic and business ties between South Africa, Hong Kong, and the Commonwealth are strong and increasing in importance.  South Africa's economy is Africa's second largest and by some measure its most industrialised, technologically advanced and diversified.  An upper-middle income economy, South Africa is the only African state in the G20.  Its GDP, foreign reserves and inward investment have grown exponentially over the last two decades.  While remaining a major exporter of primary resources, including iron, uranium, gold and platinum, it has successfully moved into key service sectors, notably financial services and tourism.  In common with many other countries, South Africa's economy has experienced issues in recent years arising from external factors but it remains a vital trade partner for Hong Kong.
Hong Kong shares with South Africa and other Commonwealth jurisdictions a common heritage based on legal, cultural and linguistic networks.  For both Hong Kong investors into Africa and beyond and for South African enterprises wishing to make greater use of Hong Kong's established role as a 'super-connector', this webinar will introduce new and exciting perspectives.
The Chamber is pleased to have secured the participation of three high-level public and private sector speakers for the event.  Mr Mojalefa Mogono, Consul General of South Africa in Hong Kong and Macau, will provide a strategic overview of latest developments relevant to our international Commonwealth business audience.  Mr Yusef Timol, Minister Economic at the South African Embassy in Beijing, will examine trends in trade and business connectivity between South Africa and Hong Kong while Ms Maxine Barnett, Founder and CEO of Acorus Capital, will provide us with a high-level and personalised private sector perspective with particular reference to the capital markets.
Speakers' presentations will be followed by a questions and answers session moderated the Chamber's Secretary-General.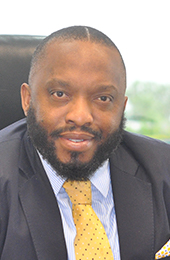 Mojalefa Mogono
Consul-General, South African Consulate General Hong Kong SAR
In August 2022, Mojalefa Mogono became the Consul-General for the South African Consulate General in Hong Kong. He is also the Director of the Department of International Relations and Cooperation of South Africa as well as the headman of the Mogono village and Chief Leader of the Royal Bafokeng Nation located in Rustenburg, South Africa.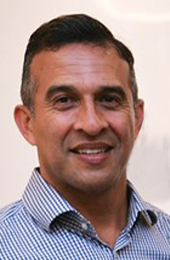 Yusuf Timol
Minister Economic at the South African Embassy in Beijing
Yusuf Timol holds a BA(Hons) from the University of the Western Cape and an MBA from the University of Stellenbosch Business School. He started working as a Business Analyst at New Africa Technology Holdings on their SAP implementation team, responsible for business process re-engineering of both private and public sector clients.  This was followed by a move to Kaiser Associates, a global strategic management consulting firm where he served as a principal consultant working on predominantly economic development projects in South Africa, Dubai and India. He then moved to public sector as a Director in the South African Department of Trade and Industry (DTI) in 2003, responsible for crafting and implementing a customised sector programme aimed at fast tracked development in the domestic 'ICT and Electronics' industry. After managing this desk for 6 years, he chose to pursue a career in the Foreign Service and served as the 'Economic Counsellor' at the South African Embassy in Iran, establishing the first DTI office in Tehran. Thereafter he progressed to 'Minister Economic' at the South African High Commission in London, a post that he resumed in June 2011. After returning to South Africa in 2014, he took charge of the localisation policy in the South African Mining Sector with emphasis on supplier development and digitization of the sector's supply chain. In 2020, Mr Timol was appointed 'Minister Economic' to represent the Department of Trade, Industry and Cooperation at the South African Embassy in Beijing with the mandate to recruit investment and grow trade.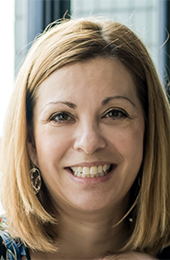 Maxine B. Barnett
Founder and CEO of Acorus Capital
Maxine is the Founder, CEO and investment committee member of Acorus Capital since 2011. Prior to this she had prominent 13-year career in investment banking specializing in trading, risk management covering structured and retail products in equity derivatives. She was responsible for starting BNP Paribas' South African warrant platform and managed their South Africa and emerging markets portfolios from 1999-2004. She was asked to develop similar businesses initiatives in Hong Kong for local and regional emerging markets to address growth in Asia in 2004 for RBS, Credit Suisse and Lehman Brothers/Nomura. Maxine is experienced in developing investment platforms and has a track record of delivering high returns. She is astute in understanding the complexities of fund management, building teams, organized and methodical in executing strategic goals. Overseeing of the different parts of Acorus she motivates the team and allocates resources. A strongly motivated individual, she is quick to identify areas of strategic growth, risks and delivers with innovative ideas and a deep network of partners in Africa and Asia.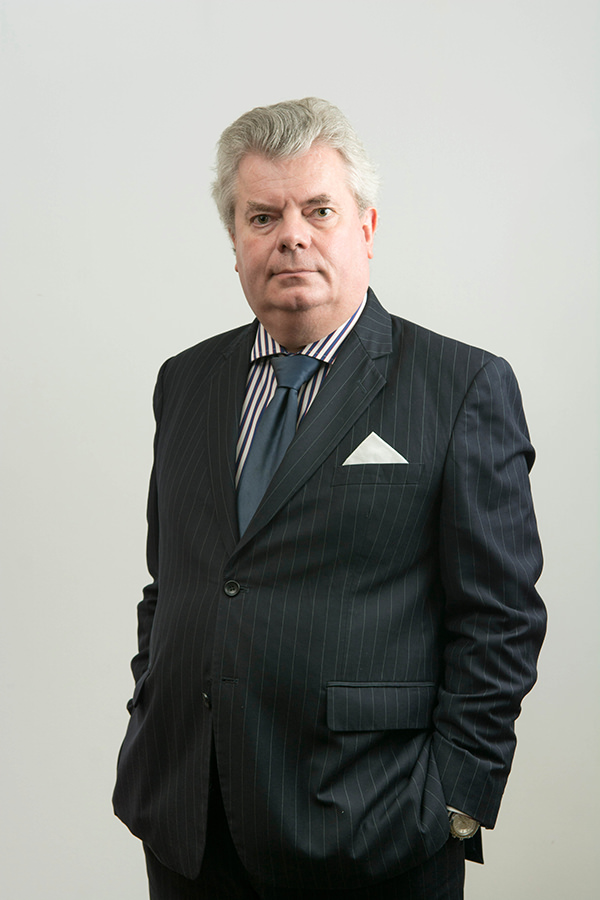 Mr Andrew Wells, Secretary-General, Commonwealth Chamber of Commerce HK

Andrew is Chairman of China Golden Bridge Group, a family company with interests in public service and real estate consultancy, M&A and hospitality and green development.
Andrew has over forty years' experience at senior levels in the public and private sector in Hong Kong. He has served on the Hong Kong Town Planning Board, Housing Authority, Education Commission and Real Estate Developers Association. From 2008 to 2011, Andrew was the Chief Secretary and Acting Governor of the British Overseas Territories of St Helena, Ascension Island and Tristan da Cunha.
Apart from his role as Secretary-General of the Commonwealth Chamber of Commerce, Andrew is active in the Hong Kong General Chamber of Commerce where he is currently Vice Chairman of the Asia and Africa Committee and Member of the Europe, China and Real Estate and Infrastructure Committees.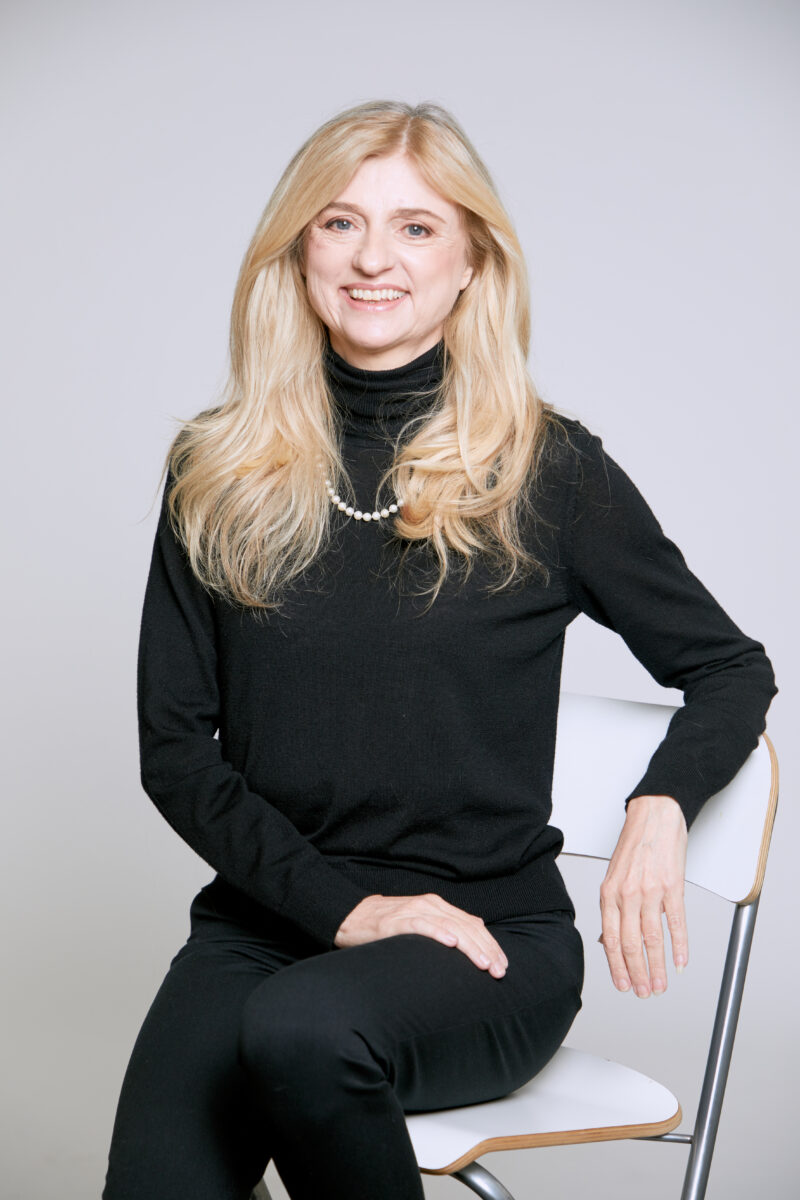 Julia Charlton: Chairman, Commonwealth Chamber of Commerce HK
Julia is the founding and managing partner of Charltons, an award winning Hong Kong corporate finance Hong Kong law firm. Julia is admitted as a solicitor in Hong Kong, England and Wales and the BVI. She practises in the field of corporate finance, including M&A, private equity, securities, virtual assets and funds.
Julia is a member of the Commonwealth Enterprise & Investment Council (CWEIC)'s Global Advisory Council. She is also a member of several Hong Kong boards and committees, most notably The Takeovers and Mergers Panel and the Takeovers Appeals Committee of the Hong Kong Securities and Futures Commission and the Listing Review Committee of the Hong Kong Stock Exchange. Julia is also a Senior Fellow of the Hong Kong Securities and Investment Institute.