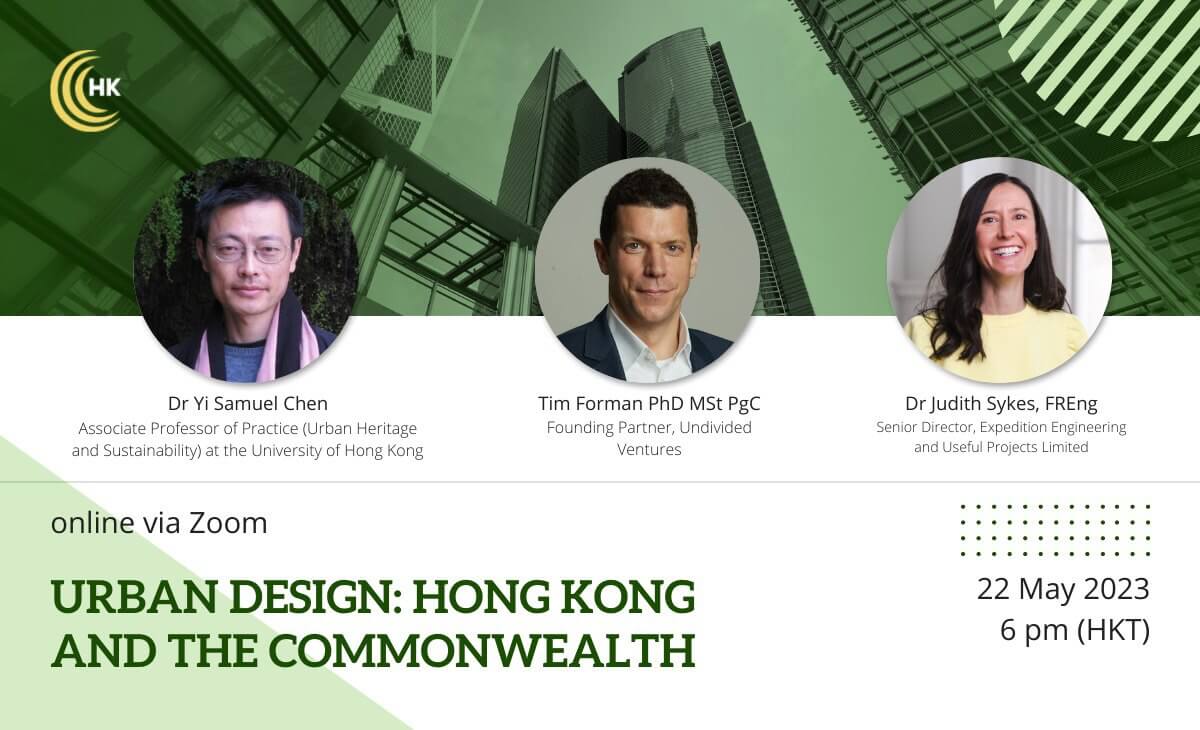 The Commonwealth Chamber of Commerce Hong Kong is delighted to present this exciting upcoming webinar on 22 May 6 pm (HKT) online via Zoom.
Urban Design: Hong Kong and the Commonwealth
The inexorable pace of urbanisation throughout the world since at least the 18th century is a topic of interest and concern to businessmen, politicians, professionals and academics alike.  In recent years, the acceleration and increasing importance of urban design in the developing world and its relationship to the challenges of climate change, innovation, and public and corporate finance have made objective and holistic discussion more urgent than ever.
The majority of the 56 countries and associated territories within the Commonwealth face major policy and financial decisions in addressing the issues concerned: for its part, Hong Kong represents a significant microcosm of both traditional and modern approaches to urban design and serves as a link between developments in the wider world and in the rapidly expanding urban centres of Asia.
The Commonwealth Chamber of Commerce in Hong Kong is therefore delighted to have secured the participation of three well-known international experts in different aspects of urban development for our webinar on 22nd May 2023: Urban Design: Hong Kong and the Commonwealth.
Dr Yi Samuel Chen (Associate Professor of Practice (Urban Heritage and Sustainability), the University of Hong Kong) is an expert in the history of urban development and will provide a tour d'horizon ranging from past centuries to modern local developments such as the Northern Metropolis.  Dr Tim Forman (Founding Partner, Undivided Ventures) is an academic and entrepreneur who has examined these topics from a global perspective, especially in regard to climate change, and is at the cutting edge of facilitating new technologies that support modern urban design without compromising environmental objectives.  Ms Judith Sykes, FREng (Senior Director, Expedition Engineering and Useful Projects Limited) has built up an international reputation for combining engineering and ecological perspectives in urban development both in the UK and globally.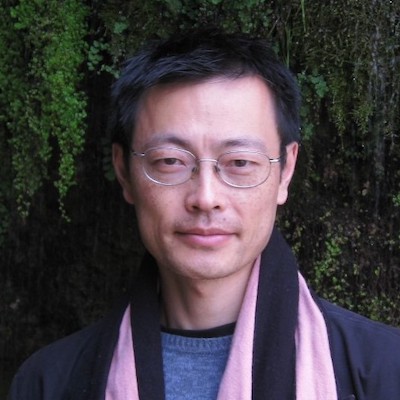 Dr Yi Samuel Chen
Associate Professor of Practice (Urban Heritage and Sustainability) at the University of Hong Kong
Dr Yi's research so far has dealt with the origins and evolution of early Middle Eastern/West Asian traditions about the rise, collapse, and restoration of early urban civilisations and the construction of time and history in early urban societies. His publications include The Primeval Flood Catastrophe: Origins and Early Development in Mesopotamian Traditions (Oxford, 2013) and Historical Consciousness and the Use of the Past in the Ancient World, co-edited with John Baines, Henriette van der Blom, and Tim Rood (Equinox, 2019).
For Dr Yi's main research project, he works on urban and regional planning and development in ancient Mesopotamian city-states and empires. Focusing on early West Asia which gave rise to some of the earliest and most prominent and resilient urban civilisations, he also engages with scholars working on paralleled urban developments in other cultures for comparative studies. This covers the broader region that links West Asia, the East Coast of Africa, and Southern Europe, around the Mediterranean World (e.g., Egypt, the Levant, Anatolia, Greece, and Rome), from the rise of urban clusters in Southern and Northern Mesopotamia (ca. 3,500 B.C.) to the end of Late Antiquity (ca. 700 A.D.). The comparative scope could also be extended to urban developments in South Asia (e.g., India), East Asia (e.g., China), South America (e.g., the Norte Chico Civilisation), and Mesoamerica (the Mayan and Teotihuacan civilisations).
Prior to joining the University of Hong Kong, Dr Yi was Research Fellow in History of Civilization at Wolfson College, University of Oxford. He has 20 years of experience managing a variety of international projects, in collaboration with leading research institutions and professional organisations, in major Chinese (Beijing, Changsha, Chengdu, Shanghai, and Shenzhen), UK (Edinburgh, London, and Oxford), and US (Boston, Los Angeles, San Diego, and Washington, D.C.) cities, many of which are related to sustainable urban development, especially in the areas of urban infrastructure, transport, and heritage. Dr Yi received his M.A. (Harvard) and D.Phil. (Oxford) in early Middle Eastern/West Asian Languages and Civilisations.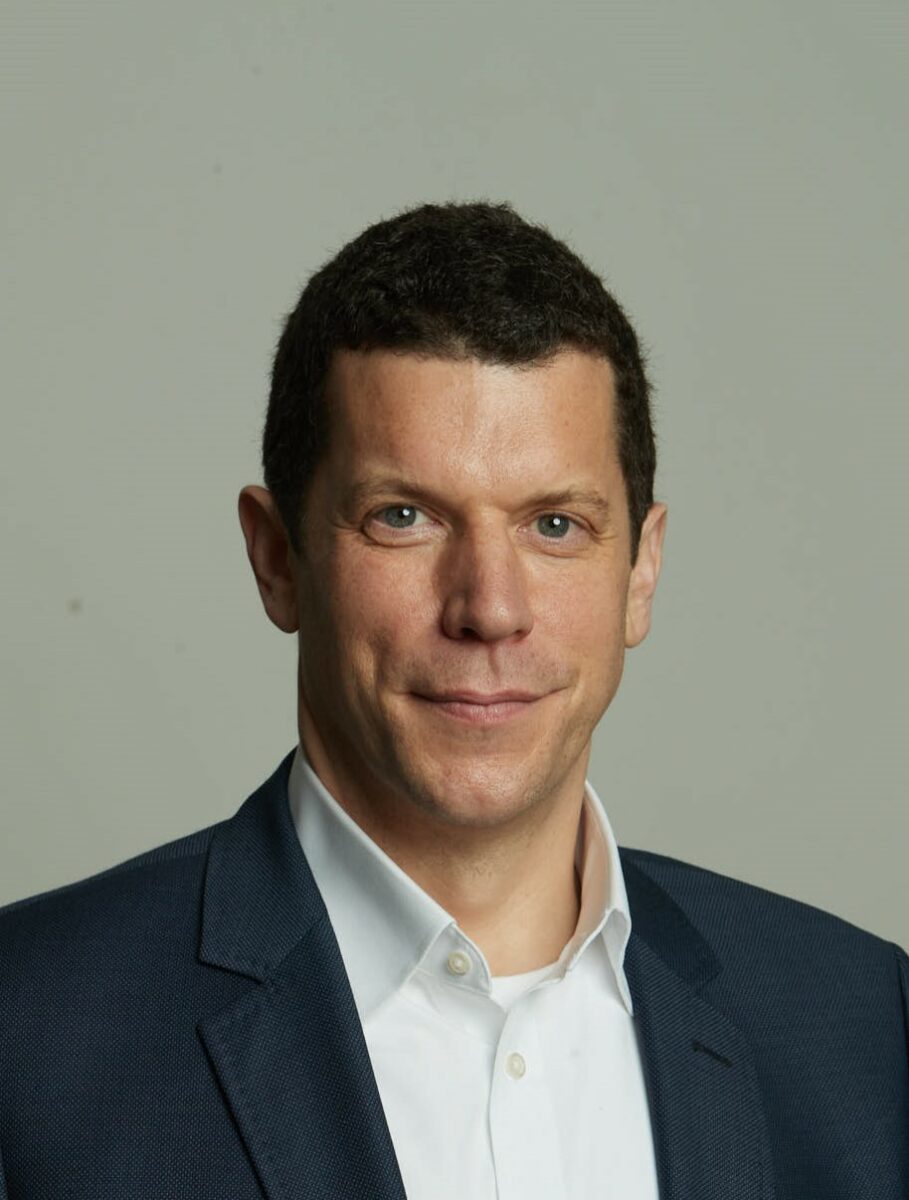 Tim Forman PhD MSt PgC
Founding Partner, Undivided Ventures
Dr Tim Forman is a Senior Teaching Associate at the Cambridge Institute for Sustainability Leadership at the University of Cambridge, where serves as a Director of Studies and the Deputy Director of the Interdisciplinary Design for the Built Environment postgraduate programme, and he is a founding partner of Undivided Ventures, an investment fund targeting sustainability impact in the construction and real estate sector.
Dr Forman has a multi-disciplinary background, with experience in architecture, construction, engineering contexts and in sustainability innovation. He holds a PhD and MSc in architecture and sustainability topics from Cardiff University, and he completed postdoctoral research at the Department of Engineering at the University of Cambridge. He joined the Cambridge Institute for Sustainability Leadership in 2019 and previously served as a Senior Research Associate. Undivided Ventures, which is based in Hong Kong, manages a growing portfolio of investments in early-stage companies developing innovations that support the sustainable design, construction and operation of buildings and connecting infrastructure.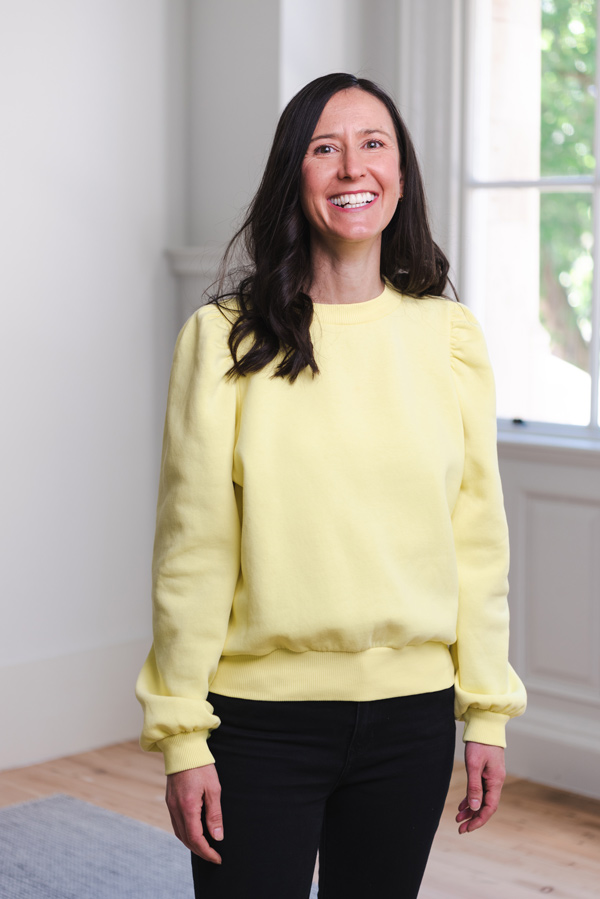 Dr Judith Sykes, FREng
Senior Director, Expedition Engineering and Useful Projects Limited
Dr Judith Sykes has over 20 years' experience in urban development and infrastructure delivery on projects around the world. She works on urban development strategies and infrastructure masterplanning for government organisations, major developers and asset owners. Her expertise is in city and urban resilience, sustainable development strategy, and infrastructure planning. Her projects include major regeneration projects and city planning to decarbonise the built environment and create resilient communities.
Dr Sykes is a member of the NIC Design Group and Technical Advisor to the Board of Homes England.  She is a Chartered Engineer, Fellow of the Institution of Civil Engineers and Fellow of the Royal Academy of Engineering.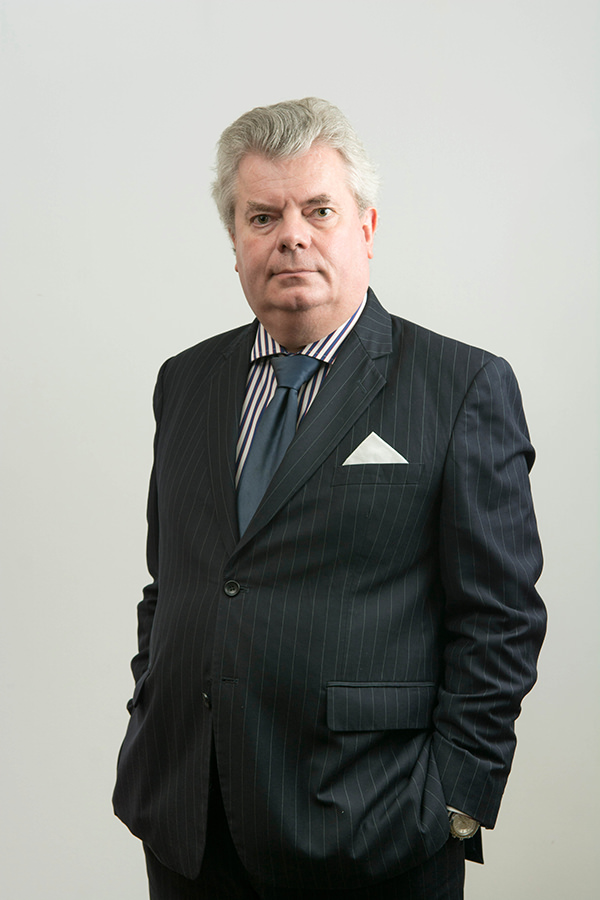 Mr Andrew Wells
Secretary-General, Commonwealth Chamber of Commerce HK
Andrew is Chairman of China Golden Bridge Group, a family company with interests in public serviceand real estate consultancy,M&A and hospitality and green development.
Andrew has over forty years' experience at senior levels in the public and private sector in Hong Kong. He has served on the Hong Kong Town Planning Board, Housing Authority, Education Commission and Real Estate Developers Association. From 2008 to 2011, Andrew was the Chief Secretary and Acting Governor of the British Overseas Territories of St Helena, Ascension Island and Tristan da Cunha.
Apart from his role as Secretary-General of the Commonwealth Chamber of Commerce, Andrew is active in the Hong Kong General Chamber of Commerce where he is currently Vice Chairman of the Asia and Africa Committee and Member of the Europe, China and Real Estate and Infrastructure Committees.
Introductory and Closing Remarks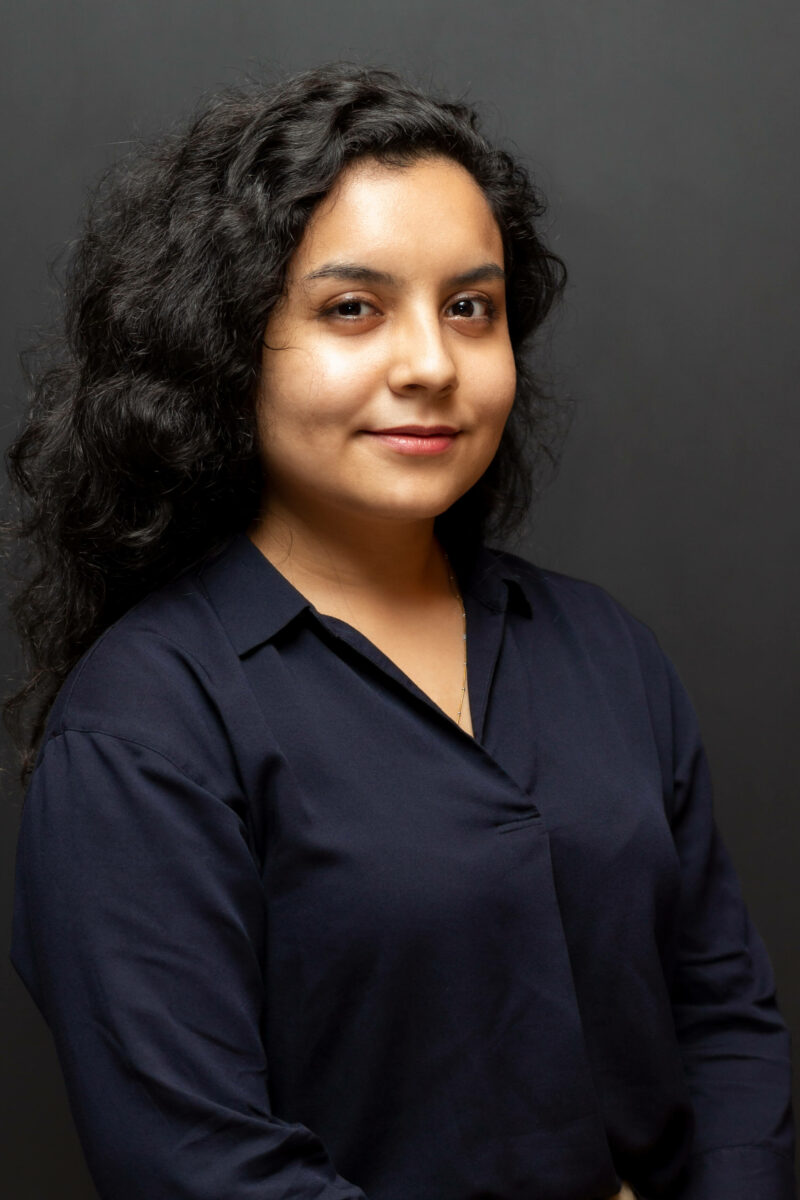 Mateena Hammad
Research Committee Manager, Commonwealth Chamber of Commerce Hong Kong
Mateena Hammad leads the research committee of the Commonwealth Chamber of Commerce; in this role, she has led the market research for Chamber publications including newsletters, news articles and economic reports. She has written extensive country profile overviews for the Chamber's online website encyclopaedia and has helped organise numerous webinars with key Commonwealth expert individuals including the premier of Bermuda. She is also a researcher at Charltons Law, focussing on international trade trends and developments and also assisting with background research for the firm's projects and newsletters.
With an MPhil in political science and government administration, she specialises in the geopolitical and geo-economics trends in Asia Pacific. Her master's thesis focused on a comparative analysis of the security imperative of the belt and road in the jurisdiction of Pakistan and Malaysia. During her studies, she has amassed both qualitative and quantitative research skills and is proficient in SPSS and R Studio.